Right on Cue
The Fox Den Opens With Billiards, Bites, Brews and More
Writer / Christy Heitger-Ewing
Photography Provided
Twenty-five years ago, Jared Matthews was hired as a bartender at Diamond Pub and Billiards. Soon thereafter, he was promoted to manager and began booking the bands, ordering the liquor and taking charge of the overall operations. About five years ago he branched out and began opening up restaurants in the area, including Lou Lou Food and Drink, Black Rabbit, and Equus and Jack's Bourbon Restaurant and Lounge. Even while tackling all of these ventures (some in the midst of a global pandemic, no less), Matthews stayed on at Diamond to book the bands because music is a huge passion of his. Last fall, however, he had to remove himself completely to concentrate on his restaurant ventures. 
"It was bittersweet leaving Diamond because I'd spent so many years there," Matthews says. "The saddest part was walking away from the music." 
Six weeks after Matthews left, he got news that Diamond would be closing. The landlord, a friend of his, told him that he should think about buying the establishment. Matthews didn't have to think hard.
"I jumped right on it," says Matthews, who was eager to give the place a facelift with a paint and polish, and a slight rebranding. The moment Diamond closed, Matthews announced to the public that he had purchased the place and would be reopening it as the Fox Den after some refurbishment work was done. 
"Diamond's had been a huge part of people's lives for so long with tons of regulars so I knew they'd freak out about it closing," Matthews says. "I wanted them to know that it would be reopening with the same concept, only new and improved." This includes chef-driven, pub-style bites, craft beer and cocktails, live music seven days per week, 11 billiard tables, pinball, and darts.
He reached out to a buddy who is a contractor and told him, "Boy, do I have a project for you!"
That was no lie. In six weeks they repainted the exterior, repaved the parking lot, redid the deck and completely renovated the interior. That included installing brand-new flooring, eliminating the dropped ceiling, removing the wiring that had been hanging for the past 15 years, and putting in pendant lights. In addition, they re-felted the pool tables, revamped the menu and elevated the cocktail list. The grand opening was held on April 22.
"To be honest, we were still hanging things on the wall as people were coming through the doors at 3 p.m. for the grand opening, but it was a huge success," Matthews says. "We had the best night we've had in that building. We had two stages going, inside and outside. The community response has been amazing."
Many people had presumed Matthews was the owner of Diamond Pub and Billiards. 
"I'd been there for so long and people affiliated me with that place so they assumed I owned it," Matthews says. "That wasn't the case, but I'm happy I do now because there are no strings attached. I can do whatever I want with it." 
The public is thrilled to hear it.
Located in the heart of St. Matthews, the Fox Den seats about 400 (inside and outside) and has live music of all genres, from covers to original tunes. Bands include Radiotronic, Soul Circus, Kevin Cummings & Lauren Eid, Elephant Room, Matt Moore, Some Kind of Saint, and more. 
"For the most part, bands play from 9 to 1 or 10 to 2, but we'll be dabbling in happy-hour gigs," Matthews says. 
Some are national acts out of Nashville. One of Matthews' bartenders has a band called Devil's Cut (named after the bourbon). They are an original rock band that's going to play one of Danny Wimmer's Rock on the Range concerts, so Matthews booked them to play at the Fox Den to kick off their big tour.
"It's fun highlighting original music," Matthews says. 
The reason Matthews branched off into the restaurant business is because he wanted to fully explore his other passion of cooking and creating craft cocktails. A signature dish of his is sous vide pork belly tacos. The breakfast burger (including a custom-blend burger, toasted brioche bun, cheddar cheese, sous vide pork belly, apricot jam and fried over-easy egg) is also fantastic. Other popular menu items include the street corn shrimp tacos with cilantro lime dipping sauce, and the steak quesadilla, grilled with onion, pepper, mushroom, tomatoes, and pepper jack and cheddar cheese, served with salsa and sour cream. One of their popular drinks is the Red Dragon Margarita – a strawberry puree with spice to it. They also have 16 beers on draft.
Matthews developed a love for Cajun food because he was born in Louisiana.
"My parents taught me the cuisine," he says. "I did a lot of crawfish boils for the neighborhood, which was cool."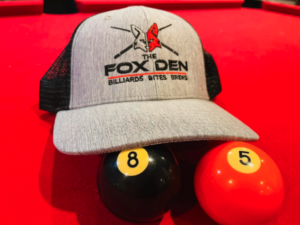 He later moved to Alabama where he lived until fifth grade, before the family relocated to Louisville. 
Now he and his wife Rebecca have four children, Ian, 17, Tristan, 15, Lexi, 6, and Foxy, 3. The sports bar's name was born out of the family name. Matthews' middle name is Fox, as is his uncle's. Matthews named his youngest son Jared Fox Jr., but everyone calls him Fox or Foxy for short.
"I always thought the Fox Den would be a cool name for a gastropub," Matthews says. 
Matthews is a man of faith who supports a number of local organizations that help make the community better. For example, he supports Love City, Inc., whose mission is to empower a movement of loving people as they are, Wayside Christian Mission, who tackles the root causes of homelessness using a holistic approach, and Apron Inc., which provides temporary financial relief to professional food and beverage workers in Louisville who are experiencing financial distress due to illness, accident or emergency.
"Everything I do, I want to be a platform to help others in the community," Matthews says. 
In his free time, Matthews likes to play sports, snowboard, go to concerts, work out and spend time with his family. He also owns a gym and practices mixed martial arts and jiu-jitsu. 
Though his children aren't old enough to work at the Fox Den, he loves that, as teenagers, they can work in one of his restaurants.
"You learn a lot by working in the service industry," he says. "I want them to have that experience. I'm not saying they have to have this life, but it's good to have that experience dealing with the public."
Matthews has always loved working in the service industry because he enjoys giving people a moment of escape from reality and any problems they may be facing. 
"They can come in here, have a good time with their friends, eat good food, drink a good beverage, watch a good band and enjoy life," he says. "If I was sitting in a cubicle pushing papers, that would not be rewarding for me. Every day I get the opportunity to serve people great entertainment. That makes them happy, which makes me happy. This career enables me to put a smile on people's faces."
The Fox Den is located at 3814 Frankfort Avenue in Louisville. For more information, call 502-357-7519 or visit thefoxdenlouisville.com. Follow them on Instagram and Facebook to check out upcoming bands and more.